Are you looking for a stainless-steel slide for your project?

We create beautiful slides – and we love it!
We are a Czech company focusing on production of custom state-of-the-art stainless-steel slides of various types and shapes. All our slides meet strict EU safety standards and are certified by TÜV SÜD.
We are a creative team composed of the right professionals. In our ranks you will find architects, structural engineers, technologists, designers and specialists for stainless steel welding. We take advantage of rich experience our people gained around the world – such as in Canada and Norway – to bring you excellent services and seamless customer experience.
Our motto is: Strong customer focus, emphasis on supreme quality and health & safety.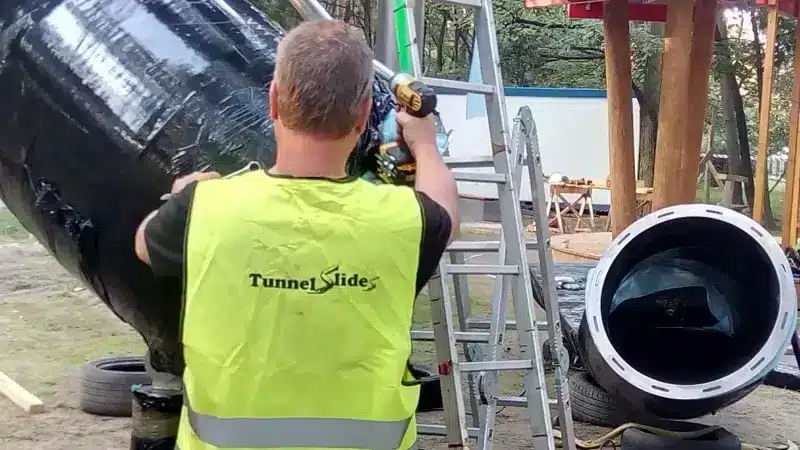 You may find our stainless-steel tube slides, half-tube slides, playground slides and water slides literally all over the world – just as our satisfied customers.
We have installations, for example, in British Columbia, Czech Republic, Holland, Slovakia, Hungary, Austria, Sweden, Denmark, Norway, Germany, Canada, Poland, Finland, Australia, Lithuania, Slovenia, Spain, Pyrenees – Andorra, Mallorca, Switzerland, USA and now Italy.
Thanks to our partnership with a number of transport companies, we are able to serve your needs wherever you are.
No need for more words – have a look at our product lines in the catalogue or visit our references.

Radek
General manager
He has a lot of experience with stainless steel materials from Sweden and Norway.

Martina
Managing Director
Graphic designer and company manager.

Patrik
Business Manager, English Language
He gained experience in Brussels and Canada.

Andrea
Business manager, German language, accountant
Pleasant and hardworking office manager.

Martin
Designer
He will model everything that is in accordance with physics and the norm.

Karel
Designer
He has experience from practice to design. Priceless.

Miloš
Head of welding work

Roman
Export packaging
A professional carpenter knows his job.

Franta
Transport, logistics
Professional in the field of transportation.

cat Patrick
package inspection
We rescued the cat and she stayed here. Loves the soft packaging.
Our qualifications:
With our experience and qualifications, a tube slide is a piece of cake. We achieved Nordic Utillity System, obtained TÜV certification, made tunnel slide for Google…