Water slides and toboggan slides
We bring fun in water to the next level !
Water slides and toboggan slides for public and private sector.

Main categories of water slides :
Custom-made slides for private sector. Various heights and shapes, straight or with turns.
Water slides for public swimmingpools and aqua parks. Shape and length according to the customer's needs.
Water slides, "BANANA" shape
Wide water slides in the "BANANA" shape are a popular attraction at every swimingpool.
Floating water slides on a pontoon
A unique solution of floating water slides on a pontoonis suitable for every water surface

Small water slides "BABY" for the youngest
Suitable for the youngest kids. The height of 40 to 65 cm above the water surface allows the parents to take care of their children directly from the water.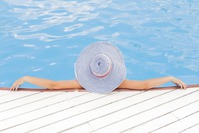 Water slides with a ladder
A new special edition. To be added soon.
---
Request form
Please, fill in the required information in order to allow us to process the order.
We will send you a quotation on your email.